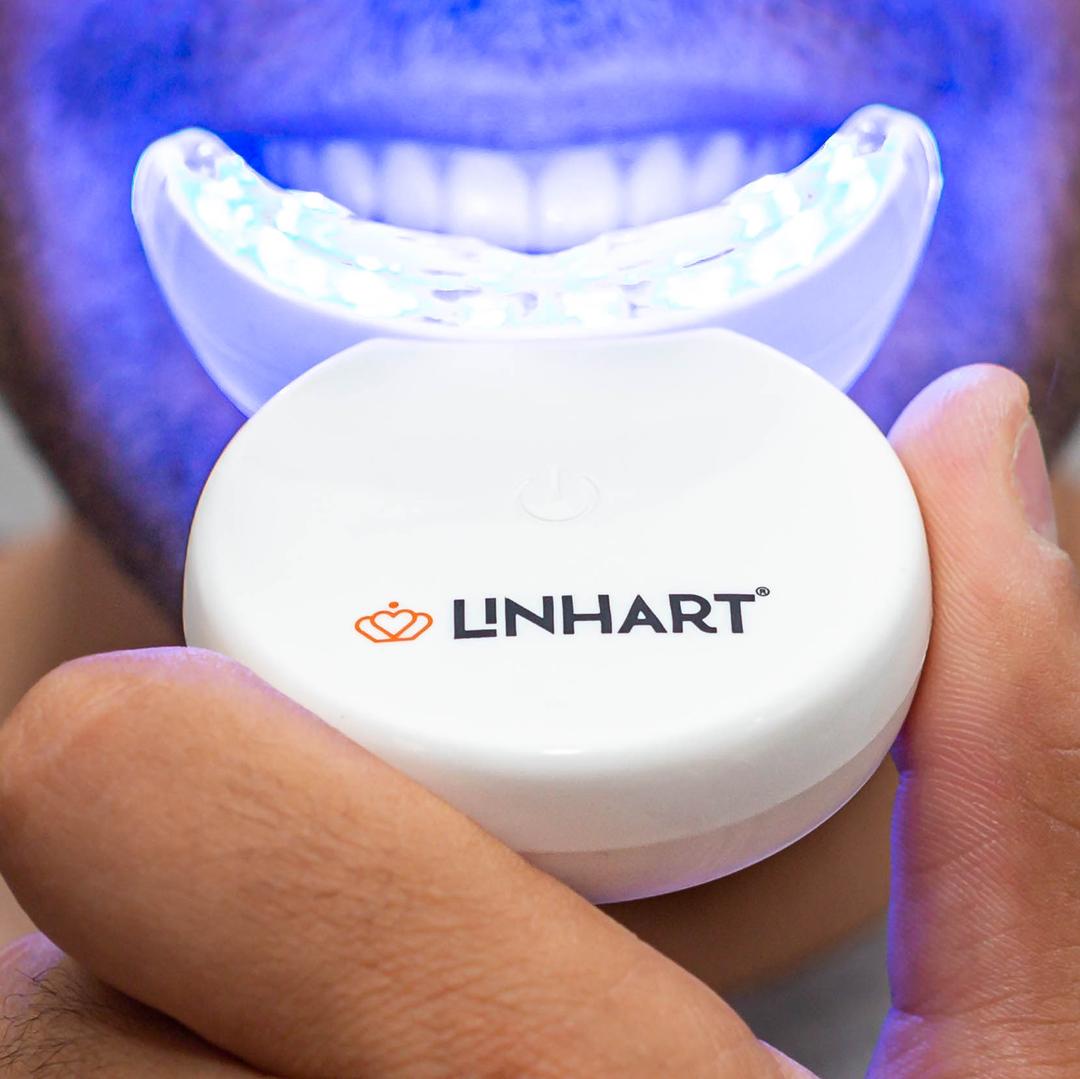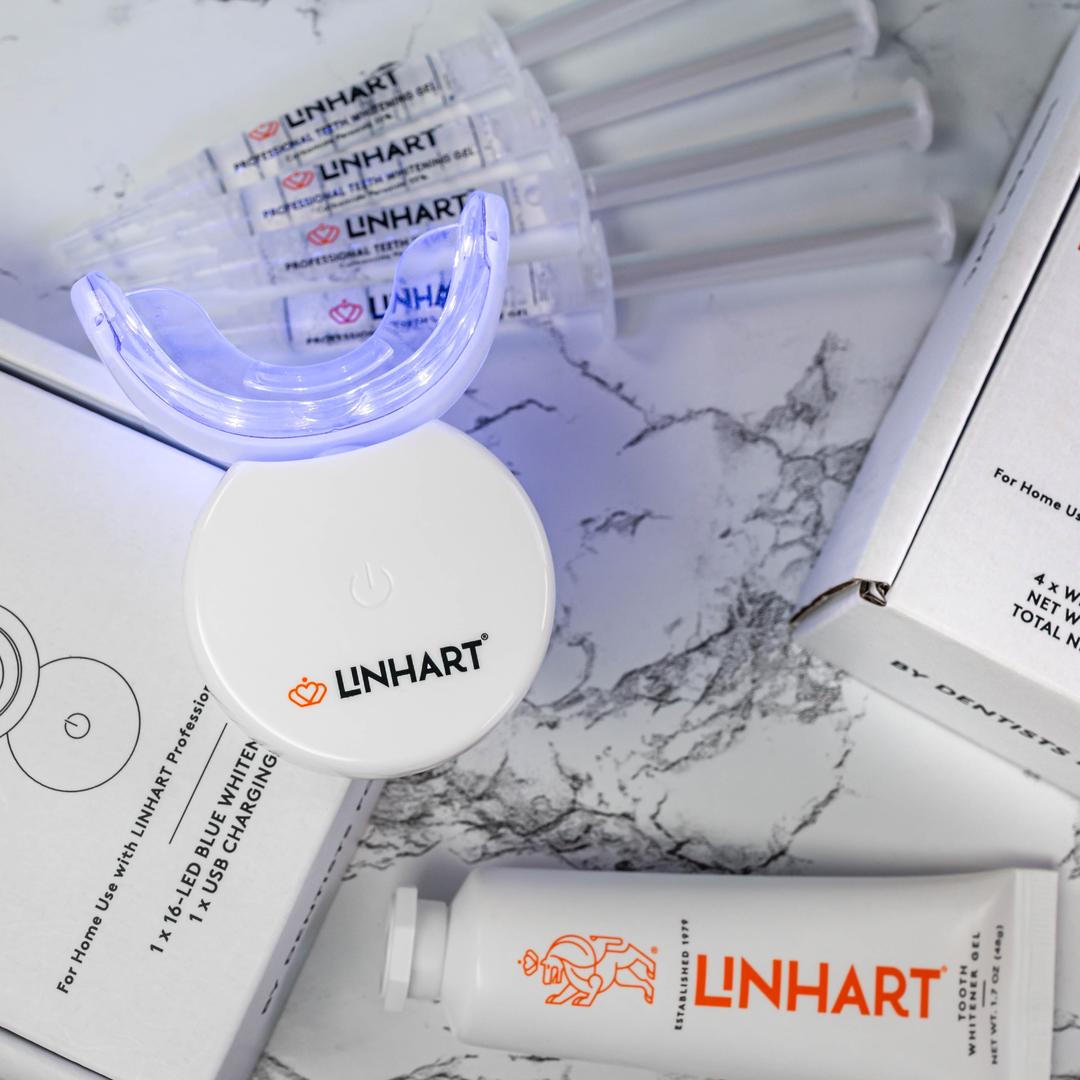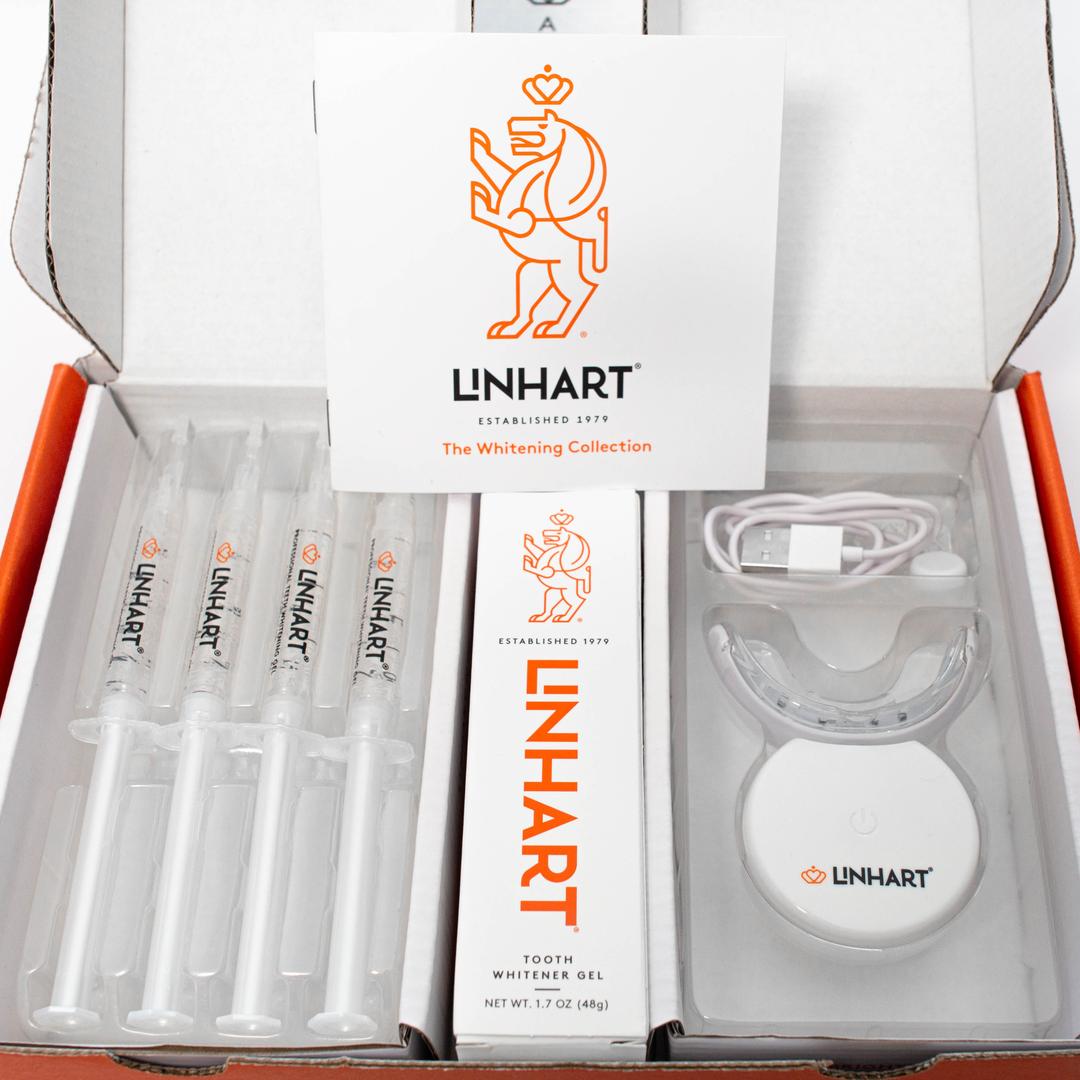 The LINHART Whitening Collection
The latest in At-Home Whitening technology is here! Get our 100% No Risk Money Back Guarantee.

Fast Free Shipping
Free Toothbrush ($8 value) with code BRISTLES


The latest in At-Home Whitening technology is here! Get our 100% No Risk Money Back Guarantee.

Our LINHART Whitening Collection has everyone raving about their brighter, more confident smiles; even seeing a difference after just one use!
"I just wanted to say I absolutely love the new whitener kit!!!! I think it's amazing. I'm super excited about it and after just one use I noticed a difference. This is a home run!!"
⭐⭐⭐⭐⭐Carr
Proudly made right here in the USA with Gluten-free, Vegan, Non-GMO Ingredients!

While other whitening kits are complicated, and require you to buy expensive add-ons and use chemicals to artificially whiten your teeth - our kit is the exact opposite.
Our team of dentists created our Collection to bring more confidence to your smile by naturally whitening your teeth with the same proven methods and ingredients our clients at Linhart Dentistry in NYC have enjoyed for decades!
Our All-in-One Whitening Collection comes with everything you need for whiter teeth:
4 Easy to use Professional Whitening Gel Syringes with the same active ingredient used at Linhart Dentistry
Wireless, waterproof and USB charging LED Whitening Light built for long-term, reliable use
5-star rated Linhart Smile Care Whitener Gel that's gentle enough for everyday use and designed to whiten while you brush.
Step-by-step instructions that guide you through the whitening process. 
15 treatments in every Collection. That's just $6 per treatment!
"I have always been skeptical of these whitening gel kits I see all over my Insta/FB feed. Thought I would try this one as I already use the Linhart toothpaste and like it. This kit is so well done, beautifully packaged, but more importantly, it works, and it works well. My teeth are whiter than ever, and feel great. Their whitener gel included is great too. Try this kit."
⭐⭐⭐⭐⭐JJ

You deserve the smile you've always wanted. We're here to help. We've devoted our lives to helping our clients get the smile they want and we can't wait for you to try our Whitening Collection!
Watch How Easy It Is To Use!
How do I use The Linhart Whitening Collection?

Check out our instructional video and full step-by-step guide here.




You can also email us at info@linhart.nyc with any usage questions.

What are the ingredients of the whitening syringe gel?

Ingredients: Glycerin, Urea Peroxide, Propylene Glycol, Xylitol, Carbomer, Mentha Piperita (Peppermint) Oil, Triethanolamine, Aqua




Ingredient Highlights:




Xylitol: 100% natural sweetener derived from vegetable sources has low impact on blood sugar, reduces tooth decay and treats dry mouth. We use xylitol in multiple LINHART products like our toothpaste and tooth whitener gel.




Urea / Hydrogen Peroxide: extremely gentle with oxidizing properties that act like a bleaching agent when used in our whitening gel.




Carbomer: another teeth whitening agent that works with an oxidizing effect, unlocking your teeth's whitest shade!




Mentha Piperita (Peppermint) Oil: adds a clean, refreshing taste plus has the medicinal and germicidal benefits of diminishing harmful bacterial growth inside the mouth, leaving breath smelling and feeling fresh.

Where is it made? Is it safe? Vegan? GMO?

All of our perishable products are proudly made right here in the USA, where we are based.




-Clinically Proven
-Vegan
-Gluten free
-Cruelty free
-Non GMO
-No latex
-No parabens
-No sulfates
-No PEG or PPG

No, our gels are gentle and we have had no issues with patients, or customers getting sensitivity.




Please follow the instructions here and enjoy your whiter smile!

I ran out of gel! What do I do?

Not to worry, we sell refills of our gels here.





Be sure to subscribe for additional savings!

What is the difference between your Linhart Whitener Gel tube and Whitening Syringes?

Good question! Both of these gels have been specifically formulated to achieve teeth whitening, however even though they seem similar, they are used in very different ways.





Our Whitening Syringes are meant to be used inside either our 16-LED Whitening Light tray, or custom trays made by your dentist (or us at Linhart Dentistry)! The gel is meant to be left on your teeth for 30-60 minutes a few times a week for a significant whitening boost.




Our Tooth Whitener Gel is placed on top of your regular toothpaste, preferably Linhart Toothpaste, and then you brush as usual. The gel is a great way to enhance your smile and maintain optimal white teeth long term.




Both of these gels are included in The Whitening Collection!
newsletter
Subscribe to the Linhart's mailing list to receive updates on new arrivals, special offers and other discount information.
© 2020 Linhart. All Rights Reserved
Use left/right arrows to navigate the slideshow or swipe left/right if using a mobile device